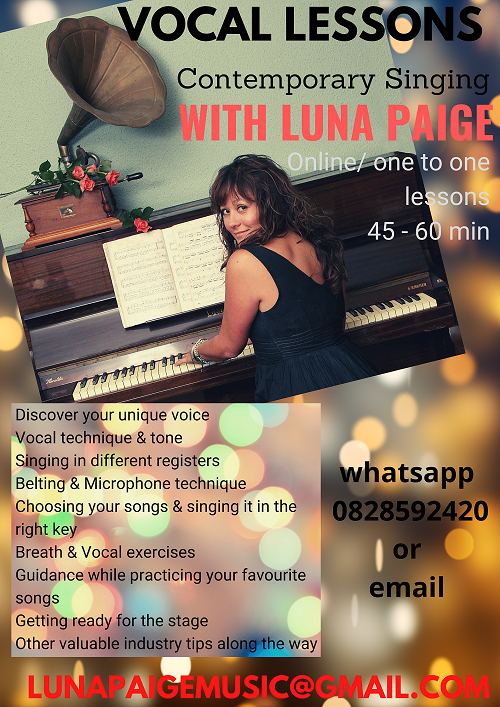 Luna Paige is a performing singer songwriter from South Africa. Since 1999 she has been singing and making music for 21 years and has released numerous albums (solo and collaborative) in English and Afrikaans (discography below). She is known for her unique voice and the lyrical quality of her songs.  In approximately 12-16 lessons an aspiring singer will gain insight into:
Finding your unique voice
Breath and vocal exercises
Vocal techniques and tones
Moving between different vocal registers comfortably
Belting
Microphone technique
Choosing songs and determining the correct key
Practicing singing in different genres
12 Bar Blues
Minor key riffing
Pentatonic riffing
Guidance while practicing your songs of choice
 Getting ready for the stage
…and other valuable related industry tips.
Lessons: R250 for one hour lesson
Purchase 10 lessons for R1800
Enquiries: Whatsapp 082 859 2420 or email Luna at lunapaigemusic@gmail.com
DISCOGRAPHY:
1999: Compilation album 'Eve: Women in the Garden of Song' (Lesley Rae Dowling, Laurinda Hofmeyr, Nicole Holm, Eugenie Grobler & Luna Paige)
2003: EP, Debut album 'Luna'
2004: Single release: 'Ou Karoo' (Die Liedjies wat ons ken, II; Kyknet)
2005: Missing Pieces
2009: Wonderful Life
2014: Borders & Beyond
2016: Single release: 'Groot is jy'
2016: Single release: 'Gee my ritme'
2017: Collaborative album: 'Korreltjie Kantel' – SAMA nominated for Best Afrikaans Contemporary Album (2018) (Luna Paige, Nick Turner & Jamie Jupiter)
2020: Paige is currently working on her next album