ILUMINAR PRODUCTIONS & CLEMENGOLD TAKE HANDS WITH DROSTDY ENTERTAINMENT AND 339 SOUTH
Iluminar Productions is hosting an array of pre-recorded shows over the next couple of months. These music theatre productions have been developed and managed by Iluminar Productions during 2018, 2019 and/or 2020 and were scheduled to run at music venues and festivals in South Africa during the course of the year.
The shows will be broadcasted on Drostdy Theatre's online platform DROSTDY ENTERTAINMENT (which is a partnership between Drostdy Theatre and TV production company 339 South).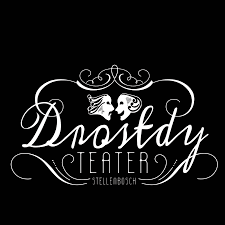 What makes this so special is that South Africans and others across the country and the rest of the world can now enjoy the shows that were not easy to take across country.
All participating parties (technical, logistical, and creative crew) are working together, sharing skills and subsequent income on these shows. Ticket prices vary between R100 to R120 and can be purchased via Webtickets. Tickets are valid for the duration of the weekend. Ticket holders can also decide to donate extra money towards the show(s) should they like to contribute more as a token of appreciation.
Iluminar Productions partnered with its creative sponsor ClemenGold once again. ClemenGold makes it possible for Iluminar Productions to guarantee a minimum performance fee to the artists and contribute towards the theatre's streaming costs for the first 15 shows. Fans can also look forward to three newly developed collaborative shows which will be broadcasted later in the year. In the meantime, please see the diverse list of shows to look forward to as presented by Iluminar Productions and ClemenGold. A great thanks to 339 South who partnered with Drostdy Theatre as broadcasting and video specialists. Together we create relief for all who love and work in the arts.
26 June 2020, 7pm
Elders aan diens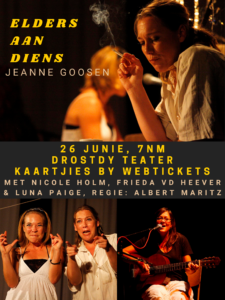 Iluminar Productions facilitated the re-broadcasting of the cabaret 'Elders aan diens'. This music theatre piece was developed and directed by Albert Maritz. The work is inspired and purely based on poetry as released in 2007 by Jeanne Goosen. This iconic author sadly passed away in June 2020 at the age of 81. It was decided that this unique show which was filmed by Albert Maritz in 2009 would be a great way to honour Jeanne Goosen and give her fans a special treat. The show features actresses Nicole Holm and Frieda van den Heever. They are also immaculate singers who put beautiful music to Goosen's intricate poems. Singer Luna Paige also features in this special production with her own interpretations of Goosen's work. Tickets are for sale at Webtickets for R100. Ticket holders have access to the show from Friday 26 June 7pm till Sunday evening the 28th of June 2020. Purchase your tickets at Webtickets
10 July 2020, 7pm
21 Years Later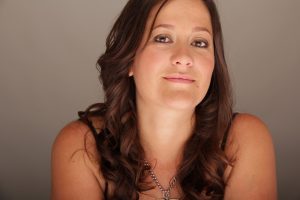 Luna Paige is celebrating her 21st year in the music industry. She challenged herself to write new material and introduce it to her fans and new audiences during 2020. The show made its debut at the annual arts festival Woordfees in Stellenbosch shortly before lockdown. Little did Luna know this would be her first and last performance of her new material performed by her and her newly assembled band consisting of Schalk van der Merwe, Frank Freeman and Blake Hellaby. Paige wrote songs that explore issues such as artistic relevance in a socio-politically sensitive period. She introduced both English and Afrikaans songs as well as performance poetry she wrote to help convey her message in '21 Years Later'. The show was well received, and Luna is happy to be able to share it on the 10th of July on this platform. Those who missed her once off performance in March can now tune in to hear Paige perform her new original material, which is long overdue. Purchase your R120 ticket at Webtickets
24 July 2020, 7pm
Folk 101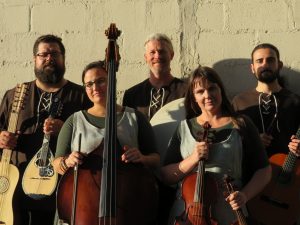 Iluminar Productions is proud to represent the talented Baroque Folk band 'Here be Dragons'. This 5-piece ultra-talented group of musicians manage to transport music lovers into a time long forgotten, subtly educating their audience on how folk music influenced art music (and vice versa) since the 16th century. They travel across Europe combining unexpected musical styles, influences and instrumentation while delivering exceptional instrumental performances, contrasting a selection of compositions by renowned composers with original songs by band leader, composer and musician Jan-Hendrik Harley. What is perceived to be a 'Classical' performance is also accessible to those who are not too familiar with this genre but who do appreciate and identify with folk music. They take the stiff upper lip out of the music and demonstrate that everyone can appreciate music from this era. Purchase your R120 ticket at Webtickets
31 July 2020, 7pm
My Miriam Makeba Story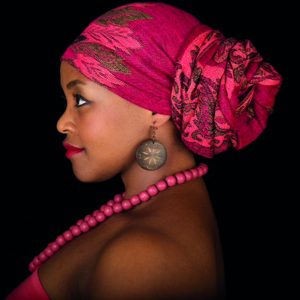 This production has made waves wherever it went. Firstly because of its subject matter – Miriam Makeba and her songs. Secondly because it features an immaculate performer by name of Sima Mashazi. Makeba is a South African favourite and rightly so. She represents a past that should never be forgotten but she is also a symbol of strength, perseverance, and hope. She is an example of what is possible within all human beings. Mashazi finds a poignant way to tell a story of unity and hope by sharing her experiences as a young Miriam Makeba in the musical Mama Africa and talking about her own life experiences and views. She is a natural on stage, a great storyteller and selected songs that carefully and stylishly convey her impeccable vocal capabilities. She was nominated as Best Solo Artist at Woordfees in Stellenbosch and won the award for Best Music Production at KKNK. She is accompanied by musical director, long time friend, pianist and composer Ramon Alexander. Iluminar Productions is proud to have assisted Sima in the development and management of this production and to provide the broader public the opportunity to experience this show in the comfort of their own homes. Purchase your R100 ticket at Webtickets
7 August
Her Blues Trio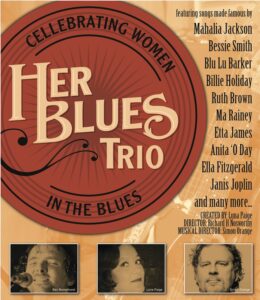 August is Women's Month. Perhaps some people become tired of women-themed weeks, campaigns, months…(?). But one cannot get tired of women, can one? They are so involved in our everyday lives. They bring so much to the proverbial table. They keep the wheels turning every day. This show sheds light on a group of women who did not ask for some light. They demanded it. They were bold, sassy, reckless, naughty, groundbreaking, leaders…. They were the ladies in Blues. They paved the way for women who today grace the biggest stages in the world. Our production has been running for numerous years and people still love it. We reduced it to a trio format which was supposed to make travel easier. Then they said, "NO MORE SHOWS"! Never mind travel. So, we are happy to adapt and bring you this special show featuring stories and songs by ladies such as Ma Rainey, Bessie Smith, Janis Joplin, Etta James, Nina Simone and many more. With Simon Orange on narration and keys, Ben Badenhorst on guitars and Luna Paige on vocals. Directed by Richard Nosworthy. A perfect way to enjoy yourself while celebrating womanhood and how far we are in our quest for gender equality. Purchase your R120 ticket at Webtickets
Other shows to look out for at Drostdy Entertainment:
19 June: Rymlied
3 July: Vivaldi's Four Seasons
17 July: Devonecia and Wilken
14 August: My Way (Niel Rademan)