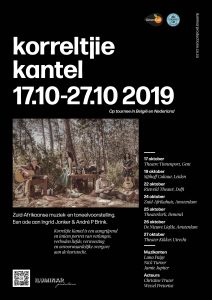 Iluminar Productions has been working towards this month for the whole of 2019. After investing so much time, money and effort into the Afrikaans music theatre production Korreltjie Kantel and dreaming of taking this production to Netherlands and Belgium – we are finally on our way! We look forward to pathing a way for South African musicians to take their work of quality abroad by using this opportunity to build creative networks and relationships in Belgium and Netherlands. We ask that you send positive vibes into the Universe for us, share our tour details with you friends, family and colleagues in these countries and motivate people to buy tickets and come and experience our show! Please see the tour poster below – feel free to save it to your phone and share it far and wide! We will be sure to give full feedback on our return! Follow us on Facebook, Twitter and Instagram to see what we are up to and how we are doing! Thank you to all of you who supported our fundraising initiatives here in South Africa. We appreciate your contribution to fulfilling our dream. We hope to be able to create similar opportunities for other musicians in future. We are also excited about collaborating and working with a renowned music group from Belgium in 2021! More news about this soon!
For those of you who are in South Africa, be sure to see visiting band from Pretoria – Georgetown – when they perform in Stellenbosch on Sunday the 20th of October. They are fantastic and come highly recommended by Iluminar Productions. They will be performing at the popular Sir Thomas Brewery from 2pm in the afternoon. Go and enjoy a delicious pizza and a cold one, while listening to some hillbilly folk-pop! You won't be sorry. This band's latest album was nominated for a SAMA award this year – and for very good reason! Tickets at Quicket.
Then, for the jazz loving people out there, you can look forward to a performance by the Ramon Alexander with Ramon on keys, Annemie Nel on drums and the legendary Lionel Beukes on bass (and wow, does he know how to play that instrument). They will be performing at the Alma Café on Friday night the 18th of October. Be sure to book your tickets in advance and enjoy exquisite Cape Jazz in one of Cape Town's live music gems! Check out the Gig page for booking details.
So, all in all – we are excited and amped and will be taking the last three months of the year by storm – laying foundations for more fantastic endeavors in the next decade lying ahead of us. Thanks to all the wonderful projects and their artists we managed to work with this year – the Her Blues crew, the Korreltjie Kantel crew, Ramon Alexander and his team, the Here be Dragons Ensemble and Sima Mashazi with her award-winning show My Miriam Makeba Story. We look forward to introducing the line up for De Akker's StoepSessions later this month as well!
Love,
Iluminar Productions