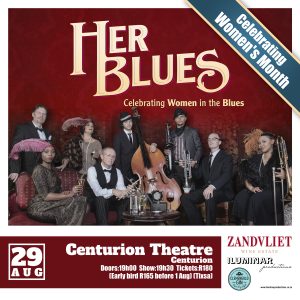 With August being Women's Month, we took our music production Her Blues to Gauteng for the first time. It was great fun introducing this show about the women in blues to a new audience. It was also fantastic working with Joburg musicians Marcus Wyatt and Romy Brauteseth for the first time.
Sima Mashazi presented her show My Miriam Makeba Story in the month of August -celebrating and honoring a female artist whose life had an impact on her as an artist too. The Korreltjie Kantel team had a third fundraising gig in August. Thanks to the Barleycorn Music Club who made it possible for the Korreltjie Kantel team to raise another R3000 for the tour to Netherlands and Belgium in October.
Now it is Springtime and there is loads happening this month. It is not only Spring, it is also Heritage Month – a time in South Africa when we pay attention to who we are, where we come from and celebrate those who paved the way for us, influenced us, and inspired us to grow and become better versions of ourselves and those who preceded us. Ramon Alexander and his band will be presenting a special concert in honor of Ibrahim Khalil Shihab on Sunday the 22nd of September.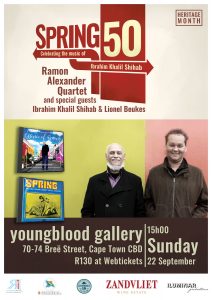 The show is titled Spring 50 and celebrates the 50 years that passed since the release of Ibrahim's first album (Spring) and the introduction and celebration of his second album which was released 49 years later (Essence of Spring). The show will take place at the Youngblood Gallery, where we also hosted a wonderful fundraising show for the Korreltjie Kantel cast at the end of June. Youngblood is a wonderfully creative and inspiring space to work in and we like to collaborate with Ina and her team. Please do see the gig guide for more info on the show.
During the month of September, you can look out for a fantastic folk/Baroque concert in Swellendam (performed by the Baroque ensemble 'Here be Dragons'; the fourth and last Korreltjie Kantel fundraising concert which will be held at the wonderful Rootspring Music venue (owned by the musical Blundell family); Spring 50 – a celebration of Cape Jazz and a SA music legend; and My Miriam Makeba Story – which will be running at the annual Aardklop National Arts Festival at the end of the month.
Also take note that we will be contacting all who supported our crowdfunding campaign earlier this year! We will be announcing who won the design voucher, who won a delicious bottle of ClemenGold Gin, who won Zandvliet wine – and we will also be allocating the various rewards to those who selected certain rewards in exchange for their donations! We will also give feedback as to how much money has been raised and what this money will be utilized for. Once again thanks to all of you who supported us! We will start making some serious noise about our upcoming tour within the next couple of weeks and we would like to ask you to please share our gig info far and wide – especially to friends, colleagues and family living in or visiting the Netherlands and Belgium!
Please look at our events guide to find out more about the upcoming shows and to purchase tickets. Your support helps our arts industry grow.
With love,
Iluminar Productions